Tuesday, 16 May 2017 18:09
Brick Walls and Barricades in the Victorian Republik
Written by Marcus L'Estrange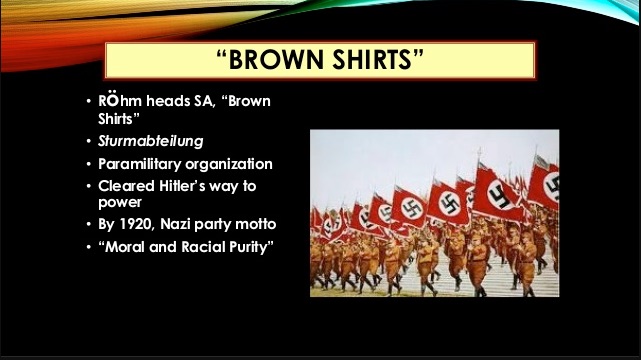 News Weekly article by Gabrielle Walsh below, elaborates:
from VICTORIA : Doctors in Secondary Schools program sidelines parents by Gabrielle Walsh News Weekly, May 6, 2017 (Click here to read the entire article:)
Victoria's Doctors in Secondary Schools (DiSS) program is undermining the rights and responsibilities of parents to care for their children's health.

The ALP Government of Daniel Andrews is in the process of implementing the DiSS program, which by the end of term 1, 2018, will involve 100 Victorian secondary colleges. These schools fall predominantly into disadvantaged and struggling regional areas.

Quick, kids, wake up and exercise your "responsible agency".
The article goes on to read:
This means that a child as young as 12 can seek medical assessment and treatment without parental knowledge or involvement..... the DiSS program enables students at school to seek treatment for sexually transmitted infections (STIs), get a prescription for contraceptives, or medication to terminate a pregnancy with chemical abortifacient the Morning-After Pill (MAP), and other medical treatments where parental involvement as the primary custodians of children is overridden.
The DISS program has a great deal in common with the very dangerous 'Safe Schools' curriculum:
Of the 100 participating schools, 67 are also signatories to the misnamed Safe Schools Coalition Victoria program. The Safe Schools Coalition program is based on queer gender theory, which denies the binary nature of male and female and melts them into hundreds of meaningless gender options; see the

Gender Master List

on Tumblr for details.

The Safe Schools Coalition program has two core doctrines: that gender is fluid (meaning any adult or child can choose a gender other than their biological sex); and that the child is a sexual agent capable of making his or her own sexual decisions without parental involvement. These include children choosing medical transitioning drugs and surgery to appear as a member of the opposite sex.

It is no coincidence that the DiSS program also treats the child as an agent capable of making health-care decisions.
[/et_pb_text][et_pb_text admin_label="Text: The Intolerant Brigade" background_layout="light" text_orientation="left" use_border_color="off" border_style="solid" disabled="off"]
The Intolerant Barricade
Then a Safe Schools meeting organized by the Australian Christian Lobby group at the Arrow Hotel in upper Swanston Street.
I arrived just after starting time and saw a large number of people milling around the hotel's main entrance. I thought they were protesters and showed a policeman my entry ticket. He referred me to a senior policeman to see when I could get in. He replied that he was still to make a decision but wanted to avoid a physical clash with the 15 young protesters who were just inside the front door. There were about 25 other protesters just up the road at another hotel entrance who were partially 'kettled' by the police.
A lot of pro life people had by now drifted away based on the advice of ACL organisers to do so. A pity because not that long after the police let small groups of ACL supporters in. On the way in I saw a back entrance to the hotel which was locked and guarded by the police as there were another lot of protesters there also.
Some of us tried to 'debate' the protesters but it really was a pointless exercise. They were very young and had
no idea
of what I was saying when I said they were like Hitler's Brownshirts in Germany in the 1930s. Their overwhelming claim was that we, the attendees and the ACL guest speakers were homophobic. [Editor's note: Ironically, the image below came from an
online history
of the LGBTIQ movement]
I finally got in but only for the last half hour of the meeting and that was an exercise in itself so I can only give a very brief opinion on the key speaker's (Professor John Whitehall) address. The actual sex change operation, either way, is horrific and very few guarantees of success, if any, can be given.
Further reading:
Andrew Bolt wrote a good piece contrasting Alan Jones' 'pie-facing' with the standover tactics of the gay lobby. Click here to read:
Commentator, Writer, Whistleblower
Marcus' major papers are on (1) the dodgy monthly unemployment figures and their deadly effects and (2) Saving Working Class Education from the Educational Left (the Joan Kirnerites). Both are available via marcuslestrange@yahoo.com.au Other, short papers are on The Bubble Zone and Abortion on Demand. His two guiding principles and golden rules are: 'Do unto others as you would have them do unto you' hopefully and, the golden rule of life? The people who have the gold, rule.
Marcus spent most of his working life in the old Commonwealth Employment Service before having to get out because he spoke about the REAL unemployment effects and their deadly effects. Additionally, he was also forced out of the Education Department for being a whistleblower. The above paper elaborates.
Latest from Marcus L'Estrange