As if we still needed proof: the firing of Dr. Leana Wen by Planned Parenthood after just nine months in the top job tells us all we need to know about the world's largest baby killing machine. For daring to suggest that PP should actually offer real medical help to women, and not just push abortion as its top priority, she was unceremoniously dumped.
She did not have a great enough blood-lust it seems. She did not have fire in her belly to see even more babies killed. She did not have the same hatred of babies as her colleagues at PP seem to have. For that she had to go. She just was not up to the job. Here is how one news report covers the story:
The president of Planned Parenthood, the largest abortion provider in the U.S., was removed from her position Tuesday after just eight months. Dr. Leana Wen tweeted that Planned Parenthood's board had "ended my employment at a secret meeting. We were engaged in good faith negotiations about my departure based on philosophical differences over the direction and future of Planned Parenthood."

She later posted a copy of a letter to Planned Parenthood officials in which she said that she was "leaving the organization sooner than I'd hoped …" "I came to Planned Parenthood to run a national health care organization and to advocate for the broad range of public health policies that affect our patients' health," Wen added. "… The new Board leadership has determined that the priority of Planned Parenthood moving forward is to double down on abortion rights advocacy … With the landscape changing dramatically in the last several months and the right to safe, legal abortion care under attack like never before, I understand the shift in the Board's prioritization."
www.foxnews.com/politics/planned-parenthood-president-ousted-after-just-8-months-on-the-job-reports-say
Hmm, I must admit that it is nice to see the left turning on its own. As one social media contact reminded me, the Germans have a saying: "Die Revolution frisst Ihre Kinder" (The revolution devours its children). Yep, when there is this much hatred for life and hardness of heart, we fully expect them to be devouring one another.
As I say, this firing is all very telling. What they are saying is this: 'You are not blood-thirsty enough! You are not meeting your quotas! More babies MUST DIE!' That is the mindset of PP. They are after blood – and money. That is their core business. That is why they exist.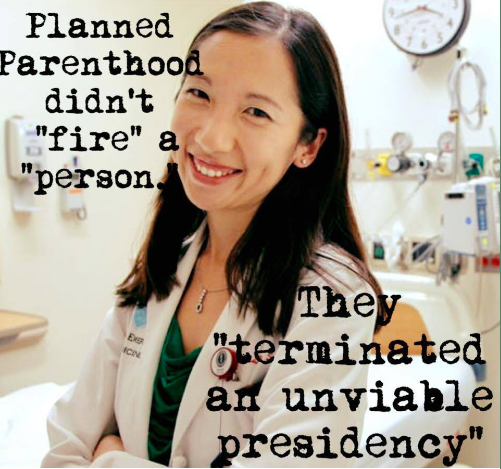 [Photo credit: dank-pro-life-memes]
One really has to wonder what sort of things they will be looking for in a new leader. What will the qualifications be that they are searching for? I would say it would be something like this:
"Wanted, an experienced baby killer who has no qualms about taking human life, nor about selling body parts of babies to others for profit. It is preferred that you resonate with past such ministries, such as the Nazi extermination camps. Having no heart and no conscience is also essential. Those who think that the vulnerable and defenceless should be our priority need not apply."
And in case you forgot, PP was caught out big time in selling baby parts for profit. I wrote about it a number of times, such as here: billmuehlenberg.com/2015/07/15/planned-parenthoods-deadly-baby-trade/
And let us not forget PP's founder, Margaret Sanger. She is the wicked eugenicist who said things like:
"The most merciful thing that a large family does to one of its infant members is to kill it."
"Birth control: to create a race of thoroughbreds."
"We prefer the policy of immediate sterilization, of making sure that parenthood is absolutely prohibited to the feeble-minded."
"The handicapped, including the blind, deaf, dumb, mute and epileptics, are the dead weight of human waste."
"I cannot refrain from saying that women must come to recognize there is some function of womanhood other than being a child-bearing machine."
See more on this here: billmuehlenberg.com/2011/02/19/the-death-of-planned-parenthood/
And here: billmuehlenberg.com/2013/04/24/sanger-obama-and-evil/
The truth is, this is a despicable and diabolical organisation. But worse yet, we taxpayers have to fund these killers. However, there is some good news here. Just recently President Trump ordered that certain organisations getting federal funding make it clear where the money goes, and if it involves anything to do with abortion. Planned Parenthood has balked at that, and now stands to lose heaps of government (taxpayer) funding. Good! Here is how one report on this goes:
The Planned Parenthood abortion business said today it will not comply with President Donald Trump's new pro-life rules that require any recipient of federal taxpayer dollars for family planning to separate out any abortion business it does.

Because the nation's largest abortion company is so wedded to its abortion business and refuses to separate it from its family planning operations, Planned Parenthood will lose as much as $60 million dollars in taxpayer funds. Officials with the abortion company told media outlets today that it would not comply with the new rules requiring separation.

As LifeNews reported this morning, President Trump has announced that his administration will implement new rules to partially defund the Planned Parenthood abortion business while his administration continues fighting a Planned Parenthood lawsuit designed to stop them.
www.lifenews.com/2019/07/16/planned-parenthood-wont-comply-with-trumps-pro-life-rule-will-lose-60-million-in-tax-dollars/
And more good news is the book and film, Unplanned, by former PP bigwig Abby Johnson keep going from strength to strength, and hundreds of abortionists are leaving this deadly profession as a result. My review of her book is here: billmuehlenberg.com/2011/02/04/a-review-of-unplanned-by-abby-johnson/
And one of my articles on the film is found here: billmuehlenberg.com/2019/03/31/the-war-against-unplanned/
Despite so many obstacles, the film is going from strength to strength. In Canada for example it was a real uphill battle to just get it into cinemas. But it is doing very well. As another piece states:
The controversial pro-life movie Unplanned smashed box-office expectations with a "phenomenally strong" opening weekend in more than 50 Canadian theatres. The film brought in $352,510 CDN at 49 theatres that reported revenues, according to B.J. McKelvie, pastor and president of the Fredericton-based Cinedicom, Unplanned's Canadian distributor.

"It shocked me … That's a phenomenally strong opening for 49 reported theatres," McKelvie told LifeSiteNews.
"The per-average theatre number is the second highest in North America" for that weekend, he added. Unplanned dramatizes Abby Johnson's conversion from a director of a Planned Parenthood abortion facility to full-time pro-life advocate and founder of And Then There Were None, a nonprofit proactive ministry dedicated to helping people leave the abortion industry.

The movie was written, produced, and directed by Cary Solomon and Chuck Konzelman, who were also taken aback by its Canadian debut. "We expected a solid opening, but the No. 2 highest per-screen average in all of North America is something we couldn't have predicted," Konzelman told LifeSiteNews in an email. "We've been saying all along that we knew there was strong demand for the film in Canada, despite the obstacles placed in our way — including disparaging remarks," he said.
www.lifesitenews.com/news/unplanned-smashes-canadian-box-office-expectations-on-opening-weekend
So there is some good news here in the abortion wars. As a social media friend reminded me, we need to pray for Dr. Leana Wen. The fact that she was not as zealous and ruthless in baby-killing means that she may yet have a heart, and she may yet be redeemable. Let's pray that she does fully see the light, and renounces baby-killing altogether, and comes to Christ as well.
And let's also pray that Planned Parenthood meets the same fate as millions of babies in the womb experience – a speedy and final termination. It is a blight on humanity and on a par with the worst mass murderers in history. It deserves to be terminated now.