Welcome

Paul Collits
Paul Collits is a freelance writer and independent researcher who lives in Lismore New South Wales.
He has worked in government, industry and the university sector, and has taught at tertiary level in three different disciplines - politics, geography and planning and business studies. He spent over 25 years working in economic development and has published widely in Australian and international peer reviewed and other journals. He has been a keynote speaker internationally on topics such as rural development, regional policy, entrepreneurship and innovation. Much of his academic writing is available at https://independent.academia.edu/PaulCollits
His recent writings on ideology, conservatism, politics, religion, culture, education and police corruption have been published in such journals as Quadrant, News Weekly and The Spectator Australia.
He has BA Hons and MA degrees in political science from the Australian National University and a PhD in geography and planning from the University of New England. He currently has an adjunct Associate Professor position at a New Zealand Polytechnic.
Monday, 13 January 2020 20:38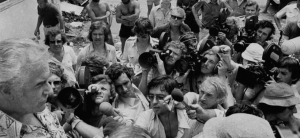 Much has been made of our current Prime Minister's absence from Australia during the ongoing and tragic bushfire crisis. And now of his less than heroic performance since his conscience/political nous got the better of him and he decided to come back and face the fire. Of course, he has been merely one of a number of politicians missing in action during the fires. Much has been made of the NSW Emergency Services Minister being in London during, well, an emergency. And not just any emergency. Now the NSW Opposition leader has tiptoed OS to escape the furnace. Are these people serious?